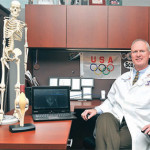 Olympic service blends local doctor's love of sports, medicine
By RANDY WELLS
Dr. Craig McKirgan played football and basketball in high school, but he didn't try skiing until he was an undergrad student at Iowa State University in the late 1970s.
Now, as an orthopaedic surgeon with the Center for Orthopaedics & Sports Medicine in White Township, he has opportunities to share world-class ski slopes with
some of the planet's best athletes. McKirgan has been getting away from his day job at COSM occasionally to serve as a team physician for the U.S. men's Alpine ski team.
It's a blending of two of his interests — sports and medicine. And it's volunteer service.
"It's something I really enjoy," he said. "It's a great experience to work with that level of athletes.
Just the organization is very, very impressive.
McKirgan was a member of the medical team for the 1996 Summer Olympic Games in Atlanta and the 2003 Pan American Games in the Dominican Republic.
Since 2007, his assignments as the physician for the men's Alpine ski team have taken him to World Cup competitions — which help decide who will represent countries in the Olympics — in Italy three times, and in Austria, Switzerland and France.
The assignments typically involve a week or two each winter.
"These guys don't ski every four years. They're skiing 12 months a year" in World Cup competitions, McKirgan said. "Pretty much every weekend or every other week they're skiing in some international competition" in the U.S. Canada or Europe.
"There is not one team physician that stays with these guys through the calendar year. So there's a group of us" sharing duties as the team doctor.
An athletic trainer stays with the team year-round. "We're there to assist him," McKirgan said.
"Usually when I'm at an event it's usually the 'A Team' — that's Bode Miller, Ted Ligety and those guys," with about a dozen athletes on the team.
Being selected as a team doctor for the U.S. Olympic Committee is a long process that involves submitting an application and going through security and background checks and credentialing.
It's also imperative to have experience working with athletic teams. McKirgan has been involved with athletic training and sports medicine at Indiana University of Pennsylvania since 1994.
His preparation for a World Cup competition starts in the spring when he gets his assignment.
One of the first things he does is review the World Anti-Doping Agency rules so he knows which medicines are banned.
"Some drugs we may have used in '96 we can't use now," he said.
"Once I get my assignment I start researching where the medical facilities are in that area," he said. "In the United States we take it for granted that wherever you are and get hurt, you call 911. … In some of these other countries it may not be that wellorganized.
"I get there before the team gets there and I'll go to the venue, which is usually a small community, smaller than Indiana. It's a village at the base of a ski resort, not a great big metropolitan area," and may have a clinic rather than a hospital, he said.
"I'll go the medical clinics (and ask), 'What kind of doctors do you have? Do you have X-ray? Do you have a CT scan?' I have to figure out the logistics. If someone is hurt really bad, where are we going to take him?"
McKirgan said he also goes to trauma centers to meet local surgeons.
"The time to introduce myself is not during an emergency when I'm bringing an athlete in," he said.
Olympic-level sports on the side of an icy mountain can easily result in serious injuries.
"With men's downhill alpine skiing, it's a lot of muscular-skeletal trauma — broken legs, knee injuries,"
McKirgan said. "These athletes are going 85 miles an hour. And they inject the mountain with water, they make it ice."
The team doctors also deal with concussions, abdominal injuries and chest trauma.
"Our job, as a team physician, is to stay with that athlete, as soon as we assess them, through the entire process," McKirgan said. "If they go to a clinic, and then get helicoptered to a regional trauma center, we go with them. A lot of our job is to protect the athlete, be an advocate for the athlete. A surgeon over there may say (to an injured athlete), 'Well, you've got this problem and we need to do X, Y and Z.' My job is to say, 'Maybe I agree with that. Maybe I don't agree with that.' "
The team physician may also treat an athlete for something as common as a cold.
"We're with them 24/7 pretty much," McKirgan said.
"You try to get athletes back to sport as safely and as soon as possible. Sometimes in the public sector you can be more conservative. But these guys are pushing the envelope (and say) 'If I'm not going to die, I still want to ski.' You've got to find that fine line (and say to them),
'It's safe for you to do it but you're still hurting a little bit.'"
Injured Olympic athletes can also be a special breed of patient.
"They're extremely motivated to do whatever you ask them to do to get better to compete," he said. "Their level of health is top-notch" and they pay close attention to their nutrition and do everything to stay healthy.
"If you look at the downhill (athletes), the top 20 skiers are within two seconds of each other and they're going two miles. … They're willing to do whatever it takes to get back to competition" and they'll work through some discomfort.
Another qualification for the ski team physicians is that they are skiers, too.
McKirgan is usually positioned a short distance down the hill below the starting gate. Coaches and staff members located along the race course are in contact with each other by radios.
"If somebody goes down (crashes), I have to be above them so I can ski to them,"
McKirgan said. "And that's the challenge because it is ice. We also have a trauma pack that we wear."
It might seem that a little recreational skiing would be a perk of being a ski team physician. But there's not much free time for the doctors.
A typical day for them often starts before dawn. "You see them (the athletes) on TV for two minutes and they're done," McKirgan
said. But in reality the athletes are training all the days leading up to the competition.
"We eat breakfast with them. Ride the gondola with them. Go up the mountain with them," he said. "Anytime the ski team is training on the mountain, I have to be on the mountain. … There's always a team meeting at the end of the night. … They want us to be involved in all that. They want us available 24/7."
In March, McKirgan will be off to Lenzerheide, Switzerland, as the team physician during the World Cup Finals.
"I am very appreciative that I have partners and staff here at COSM who help support me," he said.
"Because if you lose somebody for a week or two that puts more work on them. I greatly appreciate the patience and understanding that I'm not here all the time."